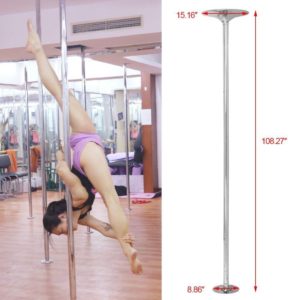 Go2buy is known for selling small home furniture like chairs, drawers, and tables. Now, they introduce their first dance pole to the market, designed for practical use in exercise to increase muscle strength and flexibility for a really great price for the typical beginner or intermediate dancers.
The 2-piece pole measures 7.7ft in length without attaching the pole extensions. Using the 2 pole extensions, measuring 125mm and 193mm each, allow the pole to extend up to 9ft in length.
The Go2buy Professional Portable Static/Spinning dance pole is built for the home, gym, and studio use. It's made of high-grade steel that has a maximum weight capacity of 200kg or approximately 440lbs.
😍  I found the cheapest price for the Go2Buy Dance Pole here
The dance pole measures 45mm in diameter. It features both spinning and static modes in one dance pole. Simply adjust a screw located at the bottom plate to switch between these options.
It has a simple and straightforward design that makes it easy to assemble, taking only a few minutes to complete its installation. It's also very portable and can be disassembled into smaller pieces to save storage space.
It weighs approximately 31lbs when all the components are placed in a carry bag.
It has micro-base support plate and a double-width ceiling support dome. The base plate takes minimum space on the floor while the upper dome has a wide diameter to cover 2 ceiling beams for extra support.
Silicone rings can be found on the upper and lower support plates for increased friction upon surface contact. The pads also protect the floor and ceiling surfaces from possible damage caused by the pressure exerted by the pole.
It has a chrome-plated finish that looks silvery in color. This pole finish helps improve grip so you can easily perform tricks on the dance pole.
The package includes two main poles, 2 pole extensions, the bottom plate with spinner, the ceiling dome, a user manual, and a toolset to aid in assembly.
Go2buy Pole Features
A 2-piece pole measuring 45mm in diameter size
Adjustable dance pole measuring 7.7ft up to 9ft
 125mm and 193mm pole extensions are included in the package
Solid pole with max weight capacity of 440lbs
Chrome-plated finish
Pros and Cons of the Go2buy Stripper Pole
Pros
The pole costs less than a $100 which is really cheap for a dance pole. Only a handful of manufacturers can match the Go2buy Professional Dance Pole in terms or pricing while offering the same features showcased by known and more expensive brands.
Some users who have bought this product attest to its quality as being sturdy and stable enough to handle any pole dancing trick you throw at it.
Cons
Go2buy's reputation in the pole dancing community is the main disadvantage of this dance pole. A dance pole coming from a manufacturer who doesn't specialize in making pole dancing equipment may plant doubts in the mind of buyers. No one wants to risk their safety for some unknown brand just to save a few bucks.
FAQs
Does it require to be screwed into the ceiling for support?
No, it doesn't. The double-width ceiling dome is wide enough to touch 2 ceiling beams for support. The silicone rings located underneath the dome produces enough friction to stabilize the pole and prevent it from slipping during use.
Verdict
The Go2buy Professional Dance Pole shows promise in terms of quality, despite being the first entry of the manufacturer in the market.
Priced at approximately $100, it seems to be on par with similar dance poles from Lil' Mynx, X-Pole, and Lupit Pole. All the features these three renowned manufacturers showcase in their dance poles can also be found on the Go2buy Professional Dance Pole, with the latter having a cheaper price.
However, much is yet to be proven by Go2buy if they really want to stay in this niche. If you have money to spare, you can get your hands on one to give it a try.
Summary
Reviewer
Review Date
Reviewed Item
Go2buy Professional Portable Static Spinning Dance Pole
Author Rating