Crash mats are really important accessories in pole dancing and we recommend that you get one.
The Greatgymats Folding Pole Dance Crash Mat is one brand that's quite affordable in 2023.
People love it for its comparable quality to products like Lil' Mynx, XPole Xpert series and Lupit pole mats
Greatgymats also makes mats for gymnastics and aerobics which means they specialize in producing accessories for sports that have high chances of athletes falling onto the floor.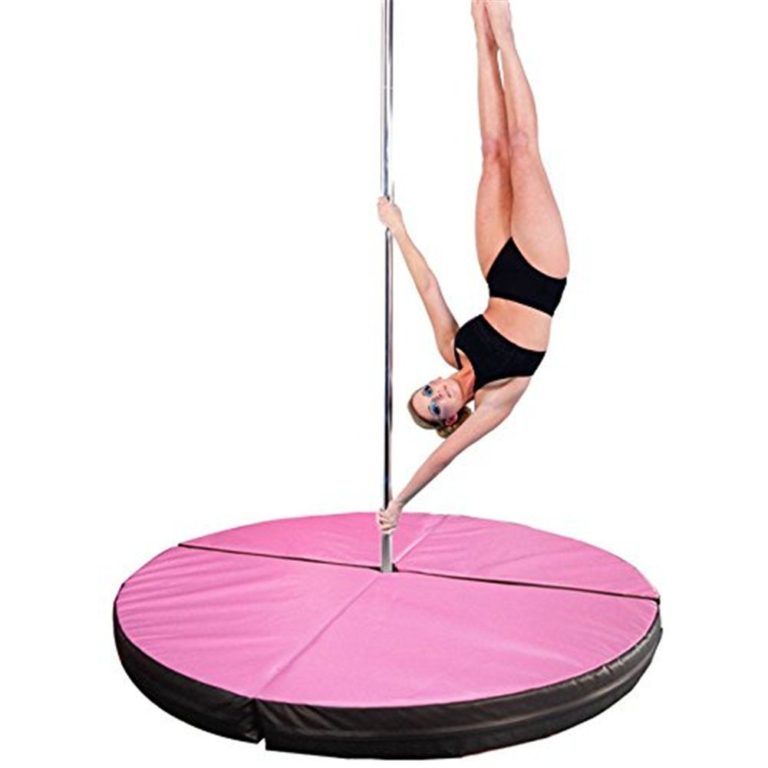 About the Greatgymats safety pole mat
The Greatgymats Folding Pole Dance safety Mats measures 5ft across and is available in varying thicknesses.
You can go for the standard 2in variant but if you feel it isn't enough, there are 4in and 5in options you can purchase instead.
Its wide area coverage provides superb support to your pole dancing routine.
It's wide enough to let you perform floor exercises without getting off the mat.
You can do anything you want on the pole without worrying about getting injured when your grip suddenly slips off the pole.
No products found.
Its core is made of heavy-duty cross-linked polyethylene (EPE) foam that's made to withstand constant pressure.
The mat is covered with PVC coating that's both eco-friendly and moisture-resistant to prevent sweat from damaging the insides of the mat.
The mat is very durable that it won't take damage even when you're wearing heels.
The mat is designed in a way that it's divided into four quarter circles so you can easily fold it and store it in a compact location.
You can see two handles when it's folded, making it easier for you to bring it anywhere you want.
The 5in-thick crash mat weighs around 16lbs which isn't much.
The Greatgymats Folding Pole Dance Crash Mat can fit on any pole size, starting from 40mm to 50mm.
It's available only in pink color with black Velcro straps and zippers.
Features
A 5ft wide crash mat that's available in different thicknesses: 2in, 4in, and 5in
Made of dense foam and durable PVC cover
Fits any dance pole size
Velcro straps to secure it on the dance pole
Foldable design with carrying handles for maximum portability
Advantages and Disadvantages
Pros
The crash mat's diameter meets the standards and you get to choose among various thicknesses to fit your preference.
Some pole safety mats don't offer this much option in terms of thickness.
It has a dense core and tough surface that's durable enough to withstand repeated use.
Cons
Its weight may be the only concern on this crash mat.
The 5in mat weighs around 16lbs which may be heavy for some, but that just indicates the quality of materials used in the product.
No products found.
Verdict
The Greatgymats Folding Pole Dance Crash Mat is designed especially for beginners who are usually the ones most prone to fall onto the floor.
This crash mat can provide a thick cushion to avoid serious injuries and accidents when your grip suddenly slips off the pole.
The option to choose among different thicknesses is a great plus because not many brands offer this option.
The ones that do sell their products with a higher price tag than Greatgymats.
This is why we recommend this crash mat for those who are tight on budget but wants to get the security crash mats to bring into the game.