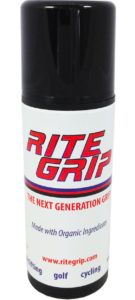 Sweaty hands can definitely break your game in 2023, and this is the main motivation of many aerialists and individuals to scout the market for the best gripping solutions.
Rite Grip is one of the top providers of this solution, with its Organic Liquid Chalk Hand Grip that's designed to work for individuals involved in sports.
Compared to other gripping solutions, the Rite Grip formulation is made from organic ingredients offering a natural way of stopping and addressing sweat.
Most gripping solutions in the market are 'chemical-based', but with Rite Grip, you can count on a formulation that's safe on your skin and hands.
Some of the all-natural ingredients of the solution include witch hazel, naturally organic silica and essential oil.
Instead of blocking your body's sweat, the formulation will absorb the sweat.
Thanks to its effective antiperspirant quality, it can work for individuals suffering from hyperhidrosis.
Features
Made from all organic ingredients
Made in the USA
Best for individuals with sweaty hands
Easy to apply
Available in 30-ml bottle
Pros and Cons of the Rite Grip Gripping Solution
Pros
Made for organic and non-harmful ingredients unlike many other grip aids on the market
Some customers raved about the product, especially when used against hyperhidrosis.
Sensitive allergic reactions
It's recommended to apply the solution as recommended on the label.
Once a small amount of the solution has been applied on the hands or any part of the body, it should be allowed to rest for at least 30 seconds before starting the activity.
The all-natural Rite Grip product can work in almost all types of activities, from pole dancing to cycling, and can be applied to any part of your body where its needed.
Cons
If you spend hours exercising or working out, you will discover that a single application of the formulation is not enough.
In many instances, you will need to re-apply the solution or your hands will start to sweat again.
Also, we noticed that upon using the bottle for a number of times, the liquid tends to dry up, and eventually clogging the opening of the bottle.
You may need to use a small knife to remove the dried residue to use the bottle again.
My Verdict
At $11.99 and with its all-natural formulation, the Rite Grip hand grip for sports is highly recommended.
Even if you have a history of allergic reactions.
Using this product should never pose a problem, Just make sure to follow the instructions, allow it to dry for 30 seconds, before starting your activities.